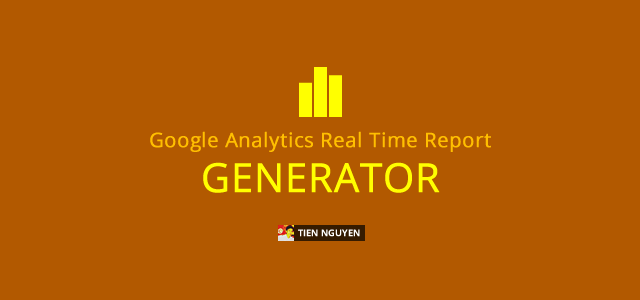 ---
You can use this tool to generate Google Analytics Real-Time Overviews Report for your students if you are teaching about webmaster tools or online marketing apps. Or can also make a report for fun when sharing it with your friends or customers. Works best with Chrome.
Just input your site information and target number of users for desktop, mobile and tablet in the form at the bottom of this article, then press GENERATE button.
After generated report, you can press    Space     to re-generate in case you don't like the graph or number of active users, or percent of active users.
If you are in a report, you just need to press Esc to return back the input form.
If you want to share a cropped screenshot only, you can just press PrtScn and then go to pasteboard.co and press Ctrl + V (if Mac, press Cmd + V). If you want to share screenshot but with annotations, you can add Awesome Screenshot extension to your browser and then capture your report.
In the report, you can hold mouse on graph columns and drag to change height of them as you want. Or you can also click to any number/percent of active users to input a new value as you like.
Now, it's time to input information into below form and generate your own report:
Home
Reporting
Customization
Admin
sneeit@blogspot.com
Script Apps - http://www.sneeit.com
All Web Site Data
Overview
Locations
Traffic Sources
Content
Events
Conversions
Overview
Right now
3
active users on site
Top Referrals:
| | Source | Active Users |
| --- | --- | --- |
| 1. | google.com | 1 |
| 2. | google.co.in | 1 |
| 3. | sneeit.com | 1 |
| 4. | bloggercando.blogspot.com | 1 |
| 5. | wpinhands.com | 1 |
| 6. | bloggeritems.com | 1 |
| 7. | google.ca | 1 |
| 8. | google.com.br | 1 |
| 9. | coccoc.com | 1 |
| 10. | ebay.com | 1 |
| 11. | bing.com | 1 |
| 12. | google.com.vn | 1 |
| 13. | yahoo.com | 1 |
| 14. | news.google.com | 1 |
| 15. | amazon.com | 1 |
Pageviews
Top Active Pages:
Active Page
Active Users
1.

/

1

33.33%

2.

/2014/05/famemag-free-min...er-magazine-template.html

1

25.00%

3.

/2014/05/easy-news-free-r...e-magazine-template.html

1

33.33%

4.

/2013/05/official-widget-of-contact-form-for.html

1

25.00%

5.

/p/coupon.html

1

33.33%

6.

/2014/05/shotmag-minimalis...ate-for-photoblog.html

1

25.00%

7.

/p/policy.html

1

33.33%

8.

/p/contact.html

1

25.00%

9.

/p/tos.html

1

33.33%

10.

/2014/05/all-in-one-po...idget-for-blogger.html

1

25.00%

11.

/p/services.html

1

33.33%

12.

/2014/05/all-in-one-po...idget-for-blogger.html

1

25.00%

13.

/2015/01/god-mag-flexible-blogger-magazine-template.html

1

33.33%

14.

/2014/10/simple-flick...3-effects-for-blogger-blogspot.html

1

25.00%

15.

/2014/10/social-icons-fo...r-blogspot-website-sidebar.html

1

33.33%
Post Your Comment
YOU WILL ALSO LIKE
---