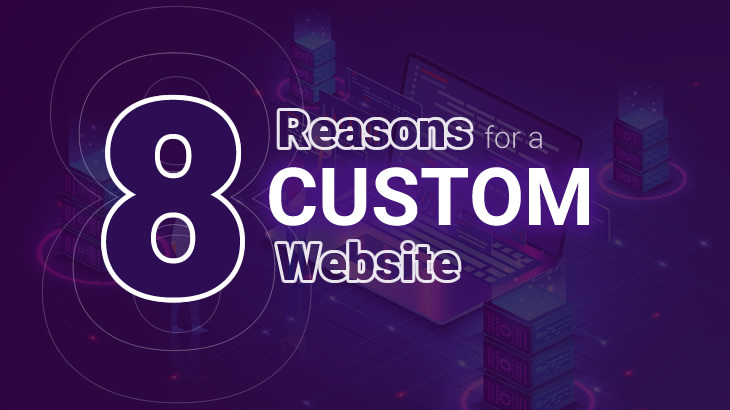 ---
There are over 1.9 billion websites worldwide[1], and that number keeps increasing. It's an exquisite thing to see, but it also means your online competition is getting tougher by the day.
If your business relies on its online presence, your next best step is to invest in a custom website. For this, it's essential to understand how SEO and design help you increase your leads and sales.
Depending on the location of your business, you'll find the best local professionals to work with. For instance, in North America, you'll find the best web design companies in Denver ready to give you a helping hand in creating the best custom website for your business.
Start improving your business by getting a custom website, and to start, read about these eight reasons why you should switch to a custom-made website.
1. A unique website gives you credibility
You want to stand out and be on the mind of your prospective customers. Buying a website template may be easier and cheaper, but you're not doing yourself any favors.
Remember that anyone can use that very same template. It means your website will look like so many other business websites.
Your marketing strategy should include conveying a distinguished professional reputation.
The more you work on website customization, the better you'll look in the eyes of your audience. Website builders won't offer you the uniqueness you're looking for. Instead, work with a web design company to build a custom website that reflects your business best.
2. Showcase your brand
Marketing practices are all about branding. The products and services you're offering could be top quality, but the strength of your brand is bringing customers through your door.
When using a custom website, you stand out from your niche market. A templated website doesn't do that for you. When potential customers see a generic website, they may think of your products and services as generic.
By comparison, when using a custom design, your website is more ready to showcase the uniqueness of your brand. An appealing design with a powerful brand reflects a more reliable and professional business.
Working with a web designer on a custom website facilitates showcasing your brand's best aspects. It makes sure your prospective buyers understand your vision and professional identity.
3. Apply any functionality you would like
Website templates act the same for any user. But they have limitations when it comes to functionality. For example, some website templates may not have the option to support e-commerce functions, which are very useful when selling products.
Some website templates may not be scalable like custom-made ones. When building a website from scratch, the only limits on functionality are those imposed by technological limitations.
You simply choose the functionality you want on your website and leave your ideas in the hands of a good web designer. They can make that happen for you.
4. Access your website from any browser and device
It's important to access your website from any device or browser. Many businesses don't pay attention to the feature, which suggests they lose possible customers on the way.
Google has over 90% of the entire search engine market nowadays[2]. When building a custom website, make sure to keep it consistent across browsers.
Some website templates can be optimized for certain browsers, but they look bad or lose functionality when accessed from other sources.
A similar thing happens with physical devices people are using. Mobile accounts generate over 50% of global website traffic[3]. People constantly change the way they connect to the internet. More and more people use mobile devices – tablets, smartphones, laptops – and frequently rely on voice searches when looking for things.
Technology keeps changing, and your website should be able to change with it. A custom-made website makes it easier to stay on top of changes. And it ensures that your visitors and clients enjoy the best possible experience.
5. Tailor your website to your audience
Generic websites have limitations. They may not be practical enough to cater to your ideal client's needs. In turn, that leads to prospective customers not taking you seriously.
Depending on your niche market, you can work on building the best website for the prospective customers you want to spend their time and money with you.
Online shoppers look for specific things online. Cater to their needs and make sure your website reflects that.
Brainstorm ideas and questions related to your customer's needs and wants. Get the most out of your custom-made website by asking your web designer to implement your desired changes.
6. Optimize for conversions and search engines
Many website templates don't focus on converting visitors. They attract as many users as possible. But a wider audience doesn't guarantee more sales.
With a custom-made website, you can build a strong path to conversion.
All you have to do is work with a professional web designer. He will optimize conversion rates by starting with a good site structure. It translates to increased sales and more leads.
Web design companies also work on optimizing websites for search engines, including coding and security measures. A custom website gives you a head start on Google ranking. We can't say the same about template websites.
7. Adapt your website to changes
Custom web design allows you to highlight the key aspects of your business. Focus on what matters most for you and your business. Display this information where anyone can see it. And remember that what's important to you today may change in the future.
Businesses consistently evolve, whether we're talking about new products, different services, brands, or focus changes. The best businesses are those that change when the market demands it.
Website templates are limiting, as previously mentioned. You may find it difficult or even impossible to change. Because your business is adaptable, it needs a flexible website.
Custom-made modern websites give you full control and independence. Make any changes you want when you want your business to evolve beyond your current limitations.
8. Focus on amazing customer experience
A beautiful website design earns more links, which leads to better search engine rankings. It's no wonder Google recently changed its algorithms to value websites that offer great user experiences.
Now your users need to spend as much time as possible on your website, engaged by your content. The more you impress your customers, the higher your chances are of ranking well. And good rankings equate to a boost in the number of visitors.
You want your customers to have a tailored experience when you deal with them in person. Do the same with your website. Custom web design allows you to tailor your website to your ideal client's needs. Here's what you should keep an eye out for:
Work on unique landing page layouts, special navigation menus, and responsive web design. Focus on offering customers the best experience, from all points of view, because of how they
interact with your website is how they interact with your business.
Conclusions
For a business, a website is one of the many ways to earn income. Maximize your profits and attract additional prospective clients by working on a unique website that reflects your brand and values. At the same time, focus on user experience and cater to your audience's needs. Get started by working with a good web design company that resonates with you and your audience!
REFERENCES
Post Your Comment
YOU WILL ALSO LIKE
---