---
SEO (Search Engine Optimization) is an important process that I do for my blogs every day to make them getting better ranking on search engines. Not saying off-page SEO techniques, in this article, I want to talk about some on-page SEO tips, that are usually mentioned by any web-master and blogger in basic SEO Guide, they are called: post title SEO tips.
At beginning, my blog has many quality and important articles, but I realized that has only some entries getting plenty of views and others not getting good traffic like that. If you also met that case, my tips in this post are for you to find out what is the thing that's the leading causes for low rankings on search engines of your great articles.
Optimize Article Title Examples
So, if we want to resolve this situation, the first thing we should think about now is that how to write a good article title which can bring back a lot of traffic by occupying good rankings on search engines (for relevant search queries). If you can not imagine why an optimized article title can affect to views for your site, just trying to visualize two following examples:
Install WordPress Site Tips
Install WordPress Tips for Beginners in Detail
If it was you, what's the post title that you will click? Actually your choice is not important, the importance is the 2nd title carries many focus keywords for the newbie as "detailed guidance", "beginners" and that is what a person who is learning how to install WordPress needs. Thereby, search engines will also prioritize showing your result on the first page because its detail in the article title.
OK, now I think you already understand about the importance of an optimized article title. If you are interested, please continue with my "tips" to know how to optimize article titles as below.
3 Steps to Optimize Article Titles for More Traffic
Before starting with my tips to write search engine friendly title, we need to set some mandatory requirements as follows:
The title must relate closely to the content
The title is no longer than 70 characters because the search results display only the first 70 characters in the title
The title must have at least one keyword or important keyword phrase in the article content
Only write title after finishing the article content
Step 1. Analyze Main Keyword
Keyword analysis is a very important step that you need to do first when starting title optimization. This step helps you identify important keywords which is being searched by many people to input it into your title.
Currently there are many keyword analysis tools, but I like Google's Keyword Planner most (you must have Google Adwords account first) because it's free and professional. If you do not know how to use it, let me explain how to use this tool to analyze and find optimized keywords to set to title.
Assuming we are preparing to write an article about "how to create a blog" and we use this tool to find relevant keywords which are being sought by a lot of people to use in our title. At first, we will access to Google Adwords homepage and choose Keyword Planner.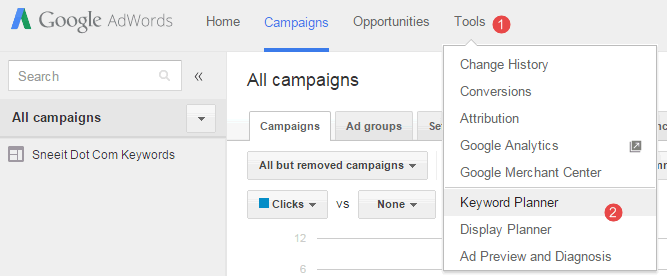 Now, enter a focus keyword, modify some advance filters and click Get ideas button. In this example, we will take the keyword "start blogging" for the main keyword to find relevant keywords.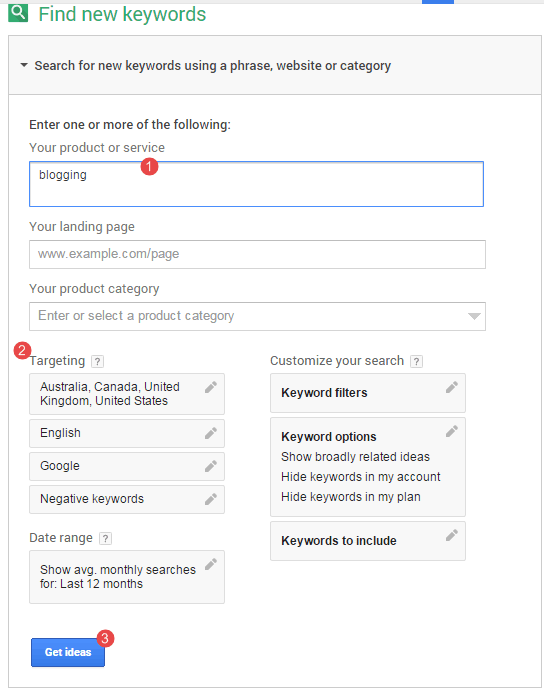 Then the tool will list all relevant keywords as below, includes important information such as the level of competition, the volume of searches per month in the country and globally. In the new version of Google's Keyword Planner, the tool allows displaying keyword group which will help you determine easily what keyword group that's your topic is in.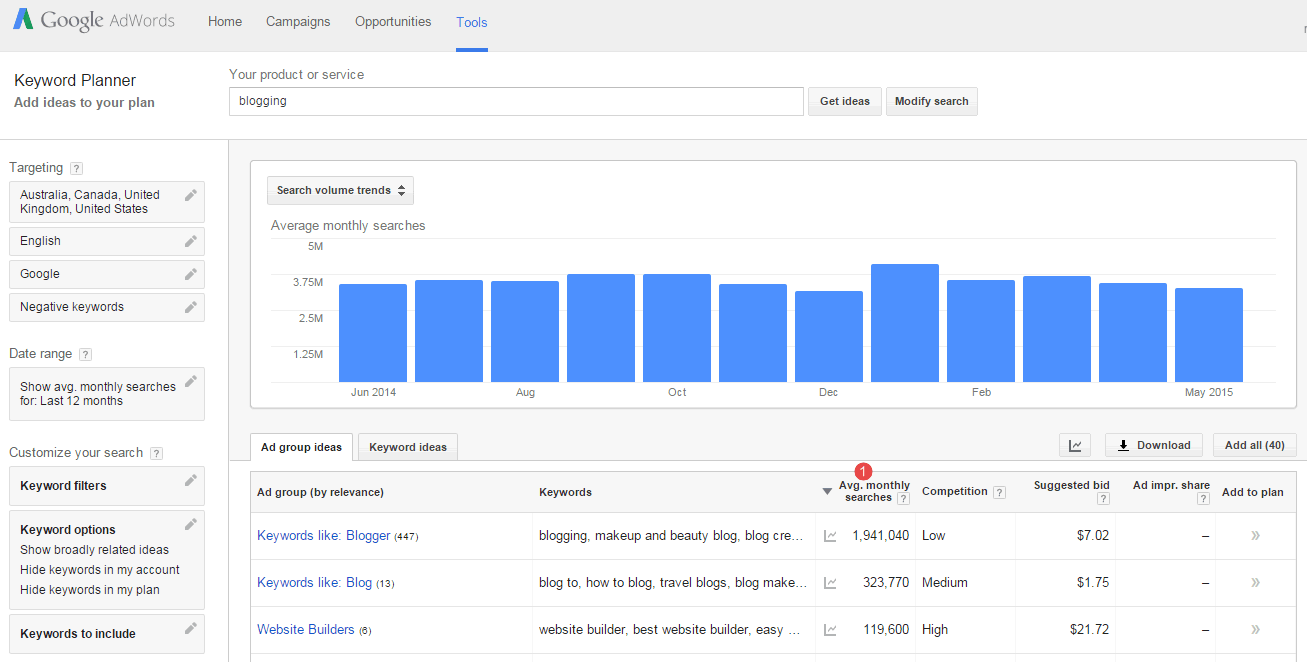 I guess you could also imagine the next job that we need to do. Now we will determine which keywords are relevant to the content and of course those keywords must be searched by a lot of people per month. You can click on column header to re-sort order of data, example, click Avg. monthly searches to sort keyword ideas by monthly search volume.
Step 2. Insert the main keyword into article title
After you found the best keyword, just input it into your title. Recommend position is always at beginning of title. Remember our requirements above and keep your title attractively to click. At beginning, I intended to name our title is "Guidelines to establish a blog", but after analyzed, this tips with
In step 1, we analyzed and select our main keyword for article title. Before start writing this article, I intended that we will complete with title "Guidelines established a blog" but after analyze, I see the title "Instructions on how to create a blog in 10 minutes" is more interested. It's seem better, right?
But in fact, you only get 80% optimized in this step. For 20% more, we should know and learn how to apply in step 3 below.
Step 3. Using the numbers
This step will definitely not be applied in all cases, but if possible, you should use it as a way to increase the clarity of the article. Suppose you publish a title like "Guide To Write Optimized Blog Post", also be attractive but that is not really very clearly, the reader will not know what they need to do to blogging optimization. We will change it into a different title that uses the digit to increase the clarity of the article. We will get the title like "7 Steps to Write a SEO Optimized Blog Post".
It's better, isn't it? The readers can visualize that how much effort and time they will spend and also see that this article is about SEO optimization, not about other things, and that's exactly what they are finding.
Bonus Tips – Optimize permalinks for article
If you are using WordPress or Blogger / Blogspot, permalinks of the posts are automatically attached the texts from your title. In some cases, your article permalinks become more intricate and repetitive meaningless words, example:
https://www.sneeit.com/2015/07/7-steps-to-write-a-seo-optimized-blog-post.html
Now, you will clear numbers, and useless words from permalink to make it shorter but still understandable and related with article content. The result may be like this:
https://www.sneeit.com/2015/07/write-seo-optimized-blog-post.html
Conclusion
The above tips are from my personal experience, and they worked for me. I would like to share here, at first to note my knowledge, second, hope my tips will help you obtain an optimized post title which will help you easily get huge traffic from search engines.
Load Comments (2)
YOU WILL ALSO LIKE
---