---
These tips are from my personal experience. Let me tell you a story: one of my readers contacted me and told that my Feedburner form was no longer working, then recommend me fix it. He also suggested me some tips to help my blog getting more traffic after he realize that my website has a lot of awesome things but has no huge reader number.
So, what did I answer? Come on, just imagine a strange guy somewhere give you an incredible feedback without request any remuneration, what will you do? Of course, I said thanks to him very much, but that's not enough. So I decided to add his website as a backlink on my right sidebar.
I know he has no any personal motivation when give his feedback on my site, he just want to help. And that's why he's deserve to get a gift from me. But you can also apply this tips as a professional way to build backlinks for your site.
Step 1. Find relevant websites
At first, we must identify sites which have the same content with our websites. I choose Google as my favorite way to do that. To find the best websites correctly, we should apply some advanced search commands and we can combine them together. But to better understand the newbies, I will use the following search commands to identify sites with the same content.
"Blogging Tips" site: OR .com OR .info OR .net OR .org OR .edu OR .gov -inurl:pdf -inurl:ppt -inurl:doc
Explain: the above search command will find all websites and pages which contain keyword "Blogging Tips" and have domain suffixes .com / .info / .net / .org / .edu / .gov, but exclude all .pdf, .ppt, .doc file types.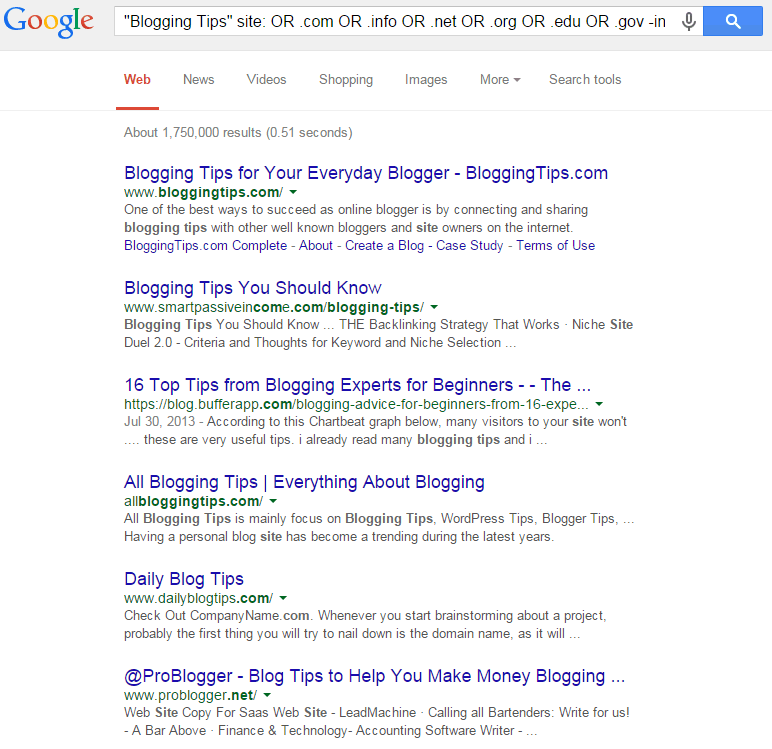 After we had a list of website, we will save them as a plain list. Of course, we don't do this manually, we will a bookmarklet script. Just drag and drop below button to your browser bookmark bar, then return back to Google Search Result page and click the button on your bookmark bar:
The script will create a new page with information about the links in your Google search result page. Just save Plain list as a text file, so we will use in next steps.
And remember, don't save the first page of Google search result, that page contains only top websites with high page-rank, of course those sites like that will have no errors for you to find, and a website with +2 page-rank will never add your site as a backlink even you suggested them many useful feedback.
Step 2. Check website errors
The most errors that all websites usually got is 404 (broken links). To detect the broken links in a website, then we can use the two following tools:
Just download and install one of these tools and then use the text file that we saved in step 1 to check what links were broken. I recommend Xenu tool for beginner, it's easy to use and you can sorting status to see 404 links on the top of result list. The scanning time of these tools is about 20 – 30 minutes according to your list size, so don't be rushed.
After scanned, you have a list of 404 links from some websites. Just access those links and find other errors. I usually got errors from menus, subscribe forms, social and button links, … but you can check everything to find a critical bug. Save those links and bugs, so we will send to their website owners later
Step 3. Contact website owners
When we have some critical broken links and bugs list in hands, now we must let website owners to know about those things. For a normal website to find contact email of the administrator is not too difficult, here are some suggestions to their email:
Find the contact page of the website.
Checking personal information in Whois
Search on Google with command: email abcxyz.com "*@gmail.com" OR "*@hotmail.com" OR "*@abcxyz.com" OR "*@yahoo.com"
Then we will send an email to them, include 404 links and bugs, also add some suggestions that you think they are good for those site owners. You can refer my own contact email template as below:
Dear Jack, do you still update your blog?

I just found your article: "3 Steps to Optimize Article Titles for More Traffic" from Google, this list is really helpful for me and other bloggers. I also read some other the posts from your blog, but some of them sent me to 404 page. Below is the list of broken links:
- ..............
- ..............
- ..............

I hope you update those articles or just remove them to make your blog become more perfect. Thank you very much. Btw, your Feedburner isn't working, fix it bro.

Best Regards,
Tien Nguyen
Finished, and you just wait for the reply of the website owner only. I do not dare to make sure they will add your link as a backlink, but if your site content is good quality, and related with their content, may be, they will do that "fair". Luck rate is 70%.
Conclusion
This method is a bit practical, but I think it's effective (at least with me). With you, it's effective or not due to your strategy. Did you try and any backlink building method like this before? Just share.
Load Comments (4)
YOU WILL ALSO LIKE
---