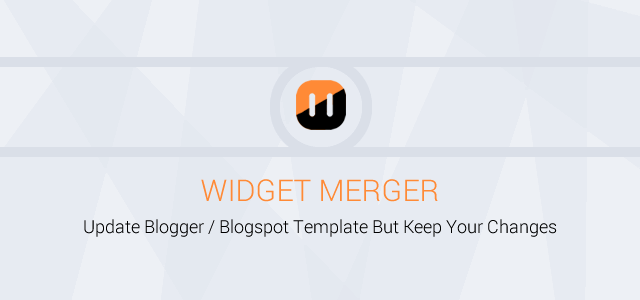 ---
Widget Merger will help you keeping your changes on your widgets when you update new version of template for your Blogger / Blogspot website.
We are no longer need to use Widget Merger for updating themes because we already have Sneeit Spot Extension. However, I still leave this tool here in case you need to do any test.
About The Idea
Normally, after you installed a Blogger template, you will never use the default widget layout from the template. So you will change position of widgets, change their title, add some new widgets and remove some useless ones. You must be very satisfied with your new widget arrangement and modification.
Suddenly, the author of template release a new version which fixed some important bugs. Of course, you must update the template to new version, but if you do that, all your changes on widgets will be gone away.
That's painful and headache when you must do everything from beginning. Imagine, if the author releases 2 updates per week, that will become a nightmare for you.
I got many complaints from my customers about this problem, I also got headache like all you guys here. I spent a lot of time to think about a good solution but no luck.
However, from those complaints, a customer with name Vic Barry (I must say special thanks to him) suggested me an idea to merge an old template code with a new one but keeping all changes on widgets. And now we have Widget Merger for Blogger, then we can happy with updates from template authors instead of angry with them.
Welcome your opinions and suggestions for the tool. Thank all!
Feature
Merge your changes on widget (title and position) in current template code to new template code.
Remove new widgets in new template code if you opted in Ignore new widgets to be merged
Merge your changes on Blogger variables (usually be used to customize fonts, colors, background) in current template code to new template code.
The Tool
Now just input your template codes into below fields then click Merge Widgets button and enjoy the result code. Please backup all your template code before do any change on them.
Important The current template code must be the full template code which was downloaded by Blogger Back / Restore Function, instead of copy directly from template editor
Ignore new widgets to be merged
Check this option if you don't want to see new widgets which are no exist in your current template.
Load Comments (21)
YOU WILL ALSO LIKE
---