---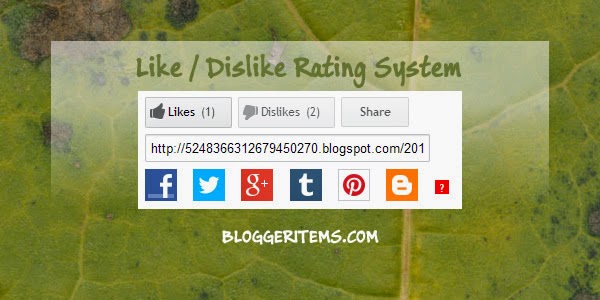 This rating system is inspired from Youtube like/dislike system, and I made it for your Blogger / Blogspot website. This like / dislike system not use the third party script so it's stable and you can use it forever as FREE.
Screen shots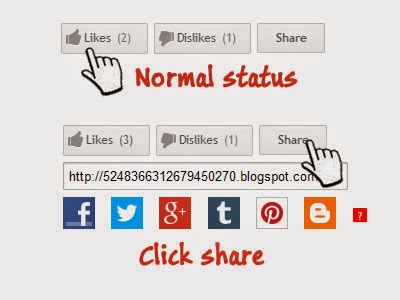 Like / Dislike and Share button in action
How to install
To install this rating system, please follow below step
Step 1: Install jQuery
You can read "Add jQuery to your Blogger/Blogspot blog template".
Step 2: Install post hook
Access your dashboard, choose Template then click Edit HTML. Click into code editor and find <b:include data='post' name='post'/> (Win: Ctrl+F). Then insert after each found result with below code:
<b:if cond='data:blog.pageType == &quot;item&quot;'>
 <div id='bi-tip-rating-2546'/>
 </b:if>
Step 3: Install script
Also in code editor, find </body> and insert before it with below code:
<!-- BI-TIP-2546-START --><style type="text/css">
#bi-tip-rating-2546 {
 margin: 0.5em 0;
 font-size: 12px!important;
}
#bi-tip-rating-2546 * {
    line-height: 1.3em!important;
}
#bi-tip-rating-2546 .button {
    float: left;
    width: 95px;
    overflow: hidden;
 border: 1px solid #C6C6C6;
 filter: progid:DXImageTransform.Microsoft.Gradient(GradientType=0,StartColorStr=#fff8f8f8,EndColorStr=#ffeeeeee);
 background-image: -moz-linear-gradient(top,#F8F8F8 0,#EEE 100%);
 background-image: -ms-linear-gradient(top,#F8F8F8 0,#EEE 100%);
 background-image: -o-linear-gradient(top,#F8F8F8 0,#EEE 100%);
 background-image: -webkit-gradient(linear,left top,left bottom,color-stop(0,#F8F8F8),color-stop(100%,#EEE));
 background-image: -webkit-linear-gradient(top,#F8F8F8 0,#EEE 100%);
 background-image: linear-gradient(to bottom,#F8F8F8 0,#EEE 100%);
 -moz-border-radius: 2px;
 -webkit-border-radius: 2px;
 border-radius: 2px;
 margin: 0 0.5em 0 0;
 padding: 2px 0;
 filter: alpha(opacity=60);
 opacity: 0.6;
}
#bi-tip-rating-2546 .button:hover {
 filter: alpha(opacity=100);
 opacity: 1;
}
#bi-tip-rating-2546 .button iframe {
    height: 20px;
    margin: 1px 0 0 0;
    position: relative;
    z-index: 9999;
}
#bi-tip-rating-2546 .like.button iframe {
    margin-left: -104px;
}
#bi-tip-rating-2546 .dislike.button iframe {
    margin-left: -92px;
}
#bi-tip-rating-2546 .button div.icon {
    background-image: url(https://2.bp.blogspot.com/-t5BPiq15e-0/UW4wQDK9rhI/AAAAAAAAEbA/8-8-6I8Y0fA/s1600/ui-icons.png);
    background-repeat: no-repeat;
    height: 20px;
    width: 20px;
    position: absolute;
    z-index: 1;
}
#bi-tip-rating-2546 .like.button div.icon {
    background-position: -252px -26px;
}
#bi-tip-rating-2546 .dislike.button div.icon {
    background-position: -320px -138px;
}
#bi-tip-rating-2546 .like.button {
    width: 85px;
}
#bi-tip-rating-2546 .share.button {
    width: 50px;
    text-align: center;
    padding: 8px;
    color: black;
    font-weight: bold;
    font-size: 12px;
    line-height: 12px!important;
}
#bi-tip-rating-2546 .button div.label {
    position: absolute;
    margin: 4px 0 0 22px;
    color: black;
 font-size: 12px;
 z-index:1;
}
#bi-tip-rating-2546 .button:active {
    border-color: #C6C6C6;
    background-color: #E9E9E9;
    background-image: none;
    -moz-box-shadow: inset 0 1px 1px rgba(0,0,0,.20);
    -ms-box-shadow: inset 0 1px 1px rgba(0,0,0,.20);
    -webkit-box-shadow: inset 0 1px 1px rgba(0, 0, 0, .20);
    box-shadow: inset 0 1px 1px rgba(0, 0, 0, .20);
}
#bi-tip-rating-2546 .share-box {
    margin: 0.5em 0;
 display: none;
}
#bi-tip-rating-2546 input.share-url {
    display:block;
    -moz-box-shadow: inset 0px 1px 1px rgba(0, 0, 0, .1);
    -ms-box-shadow: inset 0px 1px 1px rgba(0, 0, 0, .1);
    -webkit-box-shadow: inset 0px 1px 1px rgba(0, 0, 0, .1);
    box-shadow: inset 0px 1px 1px rgba(0, 0, 0, .1);
    -webkit-border-radius: 2px;
    -moz-border-radius: 2px;
    border-radius: 2px;
    border: 1px solid #ccc;
    padding: 5px;
    width: 50%;
}
#bi-tip-rating-2546 input.share-url:hover {
    -moz-box-shadow: inset 0px 1px 2px rgba(0,0,0,.15);
    -ms-box-shadow: inset 0px 1px 2px rgba(0,0,0,.15);
    -webkit-box-shadow: inset 0px 1px 2px rgba(0, 0, 0, .15);
    box-shadow: inset 0px 1px 2px rgba(0, 0, 0, .15);
}
#bi-tip-rating-2546 .bi-share-button:hover {
 filter: alpha(opacity=90);
 opacity: 0.9;
}
#bi-tip-rating-2546 .bi-share-button {
    display: block;
    float: left;
    width: 32px;
    height: 32px;
    margin: 1% 3% 0 0;
 background-image: url(https://3.bp.blogspot.com/-ZHFVbaJTCnk/UW4wQAhaZRI/AAAAAAAAEa8/twbpOZTGEIk/s1600/social-icons.png);
 background-repeat: no-repeat;
}
#bi-tip-rating-2546 .bi-share-facebook {background-position: 0 -652px;}
#bi-tip-rating-2546 .bi-share-twitter {background-position: 0 -1104px;}
#bi-tip-rating-2546 .bi-share-gplus {background-position: 0 -488px;}
#bi-tip-rating-2546 .bi-share-tumblr {background-position: 0 -380px;}
#bi-tip-rating-2546 .bi-share-pinterest {background-position: 0 0;}
#bi-tip-rating-2546 .bi-share-blogger {background-position: 0 -688px;}
#bi-tip-rating-2546 a.copyright-button:hover {
 text-decoration: underline;
}
#bi-tip-rating-2546 a.copyright-button {
    display: block;
    float: left;
    width: 1em;
    height: 1em;
    background: red;
    color: white;
    text-align: center;
    color: white;
    padding: 0.2em;
    font-size: 10px;
    font-weight: bold;
    margin: 3% 0 0 0;
}
</style><!-- bi-tip-2546-easy-guide-01 -->

<script type='text/javascript'>
//<![CDATA[

/* ############################################
Like / Dislike rating system plugin for Blogger
Author: Tien Nguyen
Copyright: https://spot.sneeit.com
############################################### */
//bi-tip-2546-easy-guide-02 
var default_share_description = 'Love it';//default share description when your site has no one
var default_share_title = 'This is it';//default title share when your site has no one
var text_likes = 'Likes';//text use in "like" button
var text_dislikes = 'Dislikes';//text use in dislike button
var _0x5abe=["x35x20x65x3Dx59x2Ex5Ax2Ex6Ax3Bx78x3Dx65x2Ex31x68x28x27x23x27x29x3Bx6Bx28x78x21x3Dx2Dx31x29x7Bx65x3Dx65x2Ex31x69x28x30x2Cx78x29x7Dx78x3Dx65x2Ex31x68x28x27x3Fx27x29x3Bx6Bx28x78x21x3Dx2Dx31x29x7Bx65x3Dx65x2Ex31x69x28x30x2Cx78x29x7Dx35x20x49x3Dx27x27x3Bx31x65x28x69x3Dx30x3Bx69x3Cx31x4Fx3Bx69x2Bx2Bx29x7Bx49x2Bx3Dx27x25x31x50x25x31x51x27x7Dx48x20x4Bx28x31x77x29x7Bx32x3Dx27x3Cx31x76x20x31x52x3Dx22x30x22x20x31x4Ex3Dx22x31x4Dx22x20x31x49x3Dx22x31x4Ax22x20x50x3Dx22x71x3Ax2Fx2Fx45x2Ex4Ax2Ex6Dx2Fx31x63x2Dx31x4Bx2Dx31x4Cx2Ex67x3Fx31x53x3Dx25x31x54x27x2Bx49x2Bx27x25x32x30x26x32x31x3Dx25x32x33x23x27x2Bx65x2Bx31x77x2Bx27x22x3Ex3Cx5Cx2Fx31x76x3Ex27x3Bx32x34x20x32x7Dx35x20x31x6Bx3Dx27x23x39x2Dx4Ex2Dx44x2Dx4Fx27x3Bx35x20x64x3Dx24x28x27x64x27x29x2Ex42x28x29x3Bx6Bx28x28x64x3Dx3Dx27x27x29x7Cx7Cx41x28x64x29x3Dx3Dx27x7Ax27x29x7Bx64x3Dx24x28x27x31x5Ax27x29x2Ex42x28x29x7Dx6Bx28x28x64x3Dx3Dx27x27x29x7Cx7Cx41x28x64x29x3Dx3Dx27x7Ax27x29x7Bx64x3Dx31x59x7Dx35x20x66x3Dx24x28x27x31x6Fx5Bx31x6Ex3Dx22x66x22x5Dx27x29x2Ex47x28x27x31x73x27x29x3Bx6Bx28x66x3Dx3Dx27x27x7Cx7Cx41x28x66x29x3Dx3Dx27x7Ax27x29x7Bx66x3Dx24x28x27x31x6Fx5Bx31x6Ex3Dx22x31x55x22x5Dx27x29x2Ex47x28x27x31x73x27x29x7Dx6Bx28x66x3Dx3Dx27x27x7Cx7Cx41x28x66x29x3Dx3Dx27x7Ax27x29x7Bx66x3Dx31x56x7Dx35x20x6Cx3Dx27x27x3Bx35x20x51x3Dx30x3Bx35x20x52x3Dx30x3Bx24x28x27x31x48x27x29x2Ex31x57x28x48x28x29x7Bx77x3Dx24x28x79x29x2Ex31x74x28x29x3Bx68x3Dx24x28x79x29x2Ex31x72x28x29x3Bx6Bx28x6Cx3Dx3Dx27x27x29x7Bx6Cx3Dx3Dx24x28x79x29x2Ex47x28x27x50x27x29x7Dx6Bx28x77x3Ex3Dx51x26x26x68x3Ex3Dx52x29x7Bx51x3Dx77x3Bx52x3Dx68x3Bx6Cx3Dx3Dx24x28x79x29x2Ex47x28x27x50x27x29x7Dx7Dx29x3Bx6Bx28x6Cx3Dx3Dx27x27x7Cx7Cx41x28x6Cx29x3Dx3Dx27x7Ax27x29x7Bx6Cx3Dx27x71x3Ax2Fx2Fx27x2Bx59x2Ex5Ax2Ex31x58x2Bx27x2Fx32x35x2Ex31x41x27x7Dx35x20x72x3Dx46x28x65x29x3Bx35x20x73x3Dx46x28x64x29x3Bx35x20x31x61x3Dx46x28x66x29x3Bx35x20x54x3Dx46x28x6Cx29x3Bx35x20x58x3Dx27x71x3Ax2Fx2Fx45x2Ex57x2Ex6Dx2Fx31x75x2Fx31x75x2Ex31x47x3Fx75x3Dx27x2Bx72x3Bx35x20x31x32x3Dx27x31x6Dx3Ax2Fx2Fx31x31x2Ex6Dx2Fx31x7Ax2Fx31x79x3Fx43x3Dx27x2Bx72x2Bx27x26x42x3Dx27x2Bx73x3Bx35x20x56x3Dx27x31x6Dx3Ax2Fx2Fx31x42x2Ex31x46x2Ex6Dx2Fx75x2Fx30x2Fx34x3Fx43x3Dx27x2Bx72x3Bx35x20x31x35x3Dx27x71x3Ax2Fx2Fx45x2Ex31x36x2Ex6Dx2Fx34x3Fx76x3Dx33x26x74x3Dx27x2Bx73x2Bx27x26x75x3Dx27x2Bx72x3Bx35x20x31x34x3Dx27x71x3Ax2Fx2Fx31x33x2Ex6Dx2Fx31x45x2Fx31x44x2Fx31x43x2Fx3Fx43x3Dx27x2Bx72x2Bx27x26x64x3Dx27x2Bx73x2Bx27x26x66x3Dx27x2Bx31x61x2Bx27x26x32x66x3Dx27x2Bx54x3Bx35x20x31x38x3Dx27x71x3Ax2Fx2Fx45x2Ex4Ax2Ex6Dx2Fx31x63x2Dx79x2Ex67x3Fx6Ex3Dx27x2Bx73x2Bx27x26x62x3Dx25x32x46x2Bx6Ax25x32x47x25x32x32x27x2Bx72x2Bx27x25x32x32x2Bx25x31x6Cx27x2Bx73x2Bx27x25x32x48x25x32x45x25x31x6Cx26x32x44x3Dx27x2Bx54x3Bx35x20x32x3Dx27x27x3Bx32x2Bx3Dx27x3Cx36x20x37x3Dx22x4Cx20x63x22x3Ex3Cx36x20x37x3Dx22x31x37x22x3Ex3Cx2Fx36x3Ex3Cx36x20x37x3Dx22x31x30x22x3Ex27x2Bx32x41x2Bx27x3Cx2Fx36x3Ex27x2Bx4Bx28x27x32x42x27x29x2Bx27x3Cx2Fx36x3Ex27x3Bx32x2Bx3Dx27x3Cx36x20x37x3Dx22x55x20x63x22x3Ex3Cx36x20x37x3Dx22x31x37x22x3Ex3Cx2Fx36x3Ex3Cx36x20x37x3Dx22x31x30x22x3Ex27x2Bx32x4Ax2Bx27x3Cx2Fx36x3Ex27x2Bx4Bx28x27x32x43x27x29x2Bx27x3Cx2Fx36x3Ex27x3Bx32x2Bx3Dx27x3Cx61x20x37x3Dx22x34x20x63x22x20x6Ax3Dx22x23x32x49x22x3Ex32x4Ex3Cx2Fx61x3Ex27x3Bx32x2Bx3Dx27x3Cx36x20x53x3Dx22x31x62x3Ax31x66x3Bx4Dx3Ax31x67x3Bx22x3Ex3Cx2Fx36x3Ex3Cx36x20x37x3Dx22x34x2Dx31x6Ax22x3Ex27x3Bx32x2Bx3Dx27x3Cx32x36x20x37x3Dx22x34x2Dx43x22x20x32x50x3Dx22x27x2Bx65x2Bx27x22x2Fx3Ex27x3Bx32x2Bx3Dx27x3Cx61x20x6Fx3Dx22x70x22x20x37x3Dx22x39x2Dx34x2Dx57x20x39x2Dx34x2Dx63x22x20x6Ax3Dx22x27x2Bx58x2Bx27x22x3Ex3Cx2Fx61x3Ex27x3Bx32x2Bx3Dx27x3Cx61x20x6Fx3Dx22x70x22x20x37x3Dx22x39x2Dx34x2Dx31x31x20x39x2Dx34x2Dx63x22x20x6Ax3Dx22x27x2Bx31x32x2Bx27x22x3Ex3Cx2Fx61x3Ex27x3Bx32x2Bx3Dx27x3Cx61x20x6Fx3Dx22x70x22x20x37x3Dx22x39x2Dx34x2Dx32x51x20x39x2Dx34x2Dx63x22x20x6Ax3Dx22x27x2Bx56x2Bx27x22x3Ex3Cx2Fx61x3Ex27x3Bx32x2Bx3Dx27x3Cx61x20x6Fx3Dx22x70x22x20x37x3Dx22x39x2Dx34x2Dx31x36x20x39x2Dx34x2Dx63x22x20x6Ax3Dx22x27x2Bx31x35x2Bx27x22x3Ex3Cx2Fx61x3Ex27x3Bx32x2Bx3Dx27x3Cx61x20x6Fx3Dx22x70x22x20x37x3Dx22x39x2Dx34x2Dx31x33x20x39x2Dx34x2Dx63x22x20x6Ax3Dx22x27x2Bx31x34x2Bx27x22x3Ex3Cx2Fx61x3Ex27x3Bx32x2Bx3Dx27x3Cx61x20x6Fx3Dx22x70x22x20x37x3Dx22x39x2Dx34x2Dx4Ax20x39x2Dx34x2Dx63x22x20x6Ax3Dx22x27x2Bx31x38x2Bx27x22x3Ex3Cx2Fx61x3Ex27x3Bx32x2Bx3Dx27x3Cx61x20x6Fx3Dx22x70x22x20x37x3Dx22x32x52x2Dx63x22x20x6Ax3Dx22x71x3Ax2Fx2Fx32x4Fx2Ex32x4Bx2Ex6Dx2Fx32x4Cx2Fx32x4Dx2Fx4Cx2Dx32x79x2Dx55x2Dx44x2Dx32x67x2Dx31x65x2Ex32x22x20x53x3Dx22x32x7Ax3Ax20x32x68x21x38x3Bx4Dx3Ax20x32x69x21x38x3Bx31x74x3Ax20x31x71x21x38x3Bx31x72x3Ax20x31x71x21x38x3Bx32x6Ax3Ax20x32x65x21x38x3Bx31x70x3Ax20x31x39x21x38x3Bx42x2Dx32x64x3Ax20x32x38x21x38x3Bx31x70x3Ax20x31x39x21x38x3Bx32x37x3Ax20x30x2Ex32x39x21x38x3Bx31x78x2Dx32x61x3Ax20x32x63x21x38x3Bx31x78x2Dx32x62x3Ax20x32x6Bx21x38x3Bx32x6Cx3Ax20x33x25x20x30x20x30x20x30x3Bx32x75x3Ax20x32x74x28x31x64x3Dx32x76x29x21x38x3Bx31x64x3Ax20x31x21x38x3Bx32x77x3Ax32x78x21x38x3Bx32x73x3Ax32x72x21x38x22x20x64x3Dx22x32x6Ex20x32x6Dx20x4Cx20x79x3Fx22x3Ex3Fx3Cx2Fx61x3Ex27x3Bx32x2Bx3Dx27x3Cx36x20x53x3Dx22x31x62x3Ax31x66x3Bx4Dx3Ax31x67x3Bx22x3Ex3Cx2Fx36x3Ex3Cx2Fx36x3Ex27x3Bx24x28x31x6Bx29x2Ex32x28x32x29x3Bx24x28x27x23x39x2Dx4Ex2Dx44x2Dx4Fx20x2Ex34x2Ex63x27x29x2Ex32x6Fx28x48x28x29x7Bx24x28x27x23x39x2Dx4Ex2Dx44x2Dx4Fx20x2Ex34x2Dx31x6Ax27x29x2Ex32x70x28x27x32x71x27x2Cx48x28x29x7Bx7Dx29x7Dx29x3B","x7C","x73x70x6Cx69x74","x7Cx7Cx68x74x6Dx6Cx7Cx7Cx73x68x61x72x65x7Cx76x61x72x7Cx64x69x76x7Cx63x6Cx61x73x73x7Cx69x6Dx70x6Fx72x74x61x6Ex74x7Cx62x69x7Cx7Cx7Cx62x75x74x74x6Fx6Ex7Cx74x69x74x6Cx65x7Cx6Ex61x6Bx65x5Fx75x72x6Cx7Cx64x65x73x63x72x69x70x74x69x6Fx6Ex7Cx7Cx7Cx7Cx68x72x65x66x7Cx69x66x7Cx6Dx65x64x69x61x5Fx75x72x6Cx7Cx63x6Fx6Dx7Cx7Cx74x61x72x67x65x74x7Cx5Fx62x6Cx61x6Ex6Bx7Cx68x74x74x70x7Cx65x6Ex63x6Fx64x65x5Fx75x72x6Cx7Cx65x6Ex63x6Fx64x65x5Fx74x69x74x6Cx65x7Cx7Cx7Cx7Cx7Cx69x6Ex64x65x78x7Cx74x68x69x73x7Cx75x6Ex64x65x66x69x6Ex65x64x7Cx74x79x70x65x6Fx66x7Cx74x65x78x74x7Cx75x72x6Cx7Cx72x61x74x69x6Ex67x7Cx77x77x77x7Cx65x6Ex63x6Fx64x65x55x52x49x43x6Fx6Dx70x6Fx6Ex65x6Ex74x7Cx61x74x74x72x7Cx66x75x6Ex63x74x69x6Fx6Ex7Cx6Cx61x62x65x6Cx5Fx73x70x61x63x65x7Cx62x6Cx6Fx67x67x65x72x7Cx72x61x74x65x5Fx69x74x65x6Dx5Fx68x74x6Dx6Cx7Cx6Cx69x6Bx65x7Cx66x6Cx6Fx61x74x7Cx74x69x70x7Cx32x35x34x36x7Cx73x72x63x7Cx63x77x7Cx63x68x7Cx73x74x79x6Cx65x7Cx65x6Ex63x6Fx64x65x5Fx6Dx65x64x69x61x5Fx75x72x6Cx7Cx64x69x73x6Cx69x6Bx65x7Cx73x6Cx5Fx67x70x6Cx75x73x7Cx66x61x63x65x62x6Fx6Fx6Bx7Cx73x6Cx5Fx66x61x63x65x62x6Fx6Fx6Bx7Cx77x69x6Ex64x6Fx77x7Cx6Cx6Fx63x61x74x69x6Fx6Ex7Cx6Cx61x62x65x6Cx7Cx74x77x69x74x74x65x72x7Cx73x6Cx5Fx74x77x69x74x74x65x72x7Cx70x69x6Ex74x65x72x65x73x74x7Cx73x6Cx5Fx70x69x6Ex74x65x72x65x73x74x7Cx73x6Cx5Fx74x75x6Dx62x6Cx72x7Cx74x75x6Dx62x6Cx72x7Cx69x63x6Fx6Ex7Cx73x6Cx5Fx62x6Cx6Fx67x67x65x72x7Cx77x68x69x74x65x7Cx65x6Ex63x6Fx64x65x5Fx64x65x73x63x72x69x70x74x69x6Fx6Ex7Cx63x6Cx65x61x72x7Cx62x6Cx6Fx67x7Cx6Fx70x61x63x69x74x79x7Cx66x6Fx72x7Cx62x6Fx74x68x7Cx6Ex6Fx6Ex65x7Cx69x6Ex64x65x78x4Fx66x7Cx73x75x62x73x74x72x69x6Ex67x7Cx62x6Fx78x7Cx68x6Fx6Cx64x65x72x7Cx33x45x7Cx68x74x74x70x73x7Cx6Ex61x6Dx65x7Cx6Dx65x74x61x7Cx63x6Fx6Cx6Fx72x7Cx31x65x6Dx7Cx68x65x69x67x68x74x7Cx63x6Fx6Ex74x65x6Ex74x7Cx77x69x64x74x68x7Cx73x68x61x72x65x72x7Cx69x66x72x61x6Dx65x7Cx6Dx65x74x68x6Fx64x7Cx66x6Fx6Ex74x7Cx74x77x65x65x74x7Cx69x6Ex74x65x6Ex74x7Cx69x63x6Fx7Cx70x6Cx75x73x7Cx62x6Fx6Fx6Bx6Dx61x72x6Bx6Cx65x74x7Cx63x72x65x61x74x65x7Cx70x69x6Ex7Cx67x6Fx6Fx67x6Cx65x7Cx70x68x70x7Cx69x6Dx67x7Cx73x63x72x6Fx6Cx6Cx69x6Ex67x7Cx6Ex6Fx7Cx70x6Fx73x74x7Cx72x65x61x63x74x69x6Fx6Ex73x7Cx74x72x75x65x7Cx61x6Cx6Cx6Fx77x74x72x61x6Ex73x70x61x72x65x6Ex63x79x7Cx33x32x7Cx32x36x6Ex62x73x70x7Cx33x42x7Cx66x72x61x6Dx65x62x6Fx72x64x65x72x7Cx6Fx70x74x69x6Fx6Ex73x7Cx35x42x61x7Cx44x65x73x63x72x69x70x74x69x6Fx6Ex7Cx64x65x66x61x75x6Cx74x5Fx73x68x61x72x65x5Fx64x65x73x63x72x69x70x74x69x6Fx6Ex7Cx65x61x63x68x7Cx68x6Fx73x74x6Ex61x6Dx65x7Cx64x65x66x61x75x6Cx74x5Fx73x68x61x72x65x5Fx74x69x74x6Cx65x7Cx68x31x7Cx35x44x7Cx74x65x78x74x43x6Fx6Cx6Fx72x7Cx7Cx32x33x30x30x30x30x30x30x7Cx72x65x74x75x72x6Ex7Cx66x61x76x69x63x6Fx6Ex7Cx69x6Ex70x75x74x7Cx70x61x64x64x69x6Ex67x7Cx63x65x6Ex74x65x72x7Cx32x65x6Dx7Cx73x69x7Ax65x7Cx77x65x69x67x68x74x7Cx31x30x70x78x7Cx61x6Cx69x67x6Ex7Cx72x65x64x7Cx6Dx65x64x69x61x7Cx73x79x73x74x65x6Dx7Cx62x6Cx6Fx63x6Bx7Cx6Cx65x66x74x7Cx62x61x63x6Bx67x72x6Fx75x6Ex64x7Cx62x6Fx6Cx64x7Cx6Dx61x72x67x69x6Ex7Cx6Fx6Ex65x7Cx57x61x6Ex74x7Cx63x6Cx69x63x6Bx7Cx74x6Fx67x67x6Cx65x7Cx66x61x73x74x7Cx73x74x61x74x69x63x7Cx70x6Fx73x69x74x69x6Fx6Ex7Cx61x6Cx70x68x61x7Cx66x69x6Cx74x65x72x7Cx31x30x30x7Cx76x69x73x69x62x69x6Cx69x74x79x7Cx76x69x73x69x62x6Cx65x7Cx61x6Ex64x7Cx64x69x73x70x6Cx61x79x7Cx74x65x78x74x5Fx6Cx69x6Bx65x73x7Cx30x32x30x31x7Cx30x32x30x32x7Cx65x75x72x6Cx7Cx32x46x61x7Cx33x43x61x7Cx33x44x7Cx33x43x7Cx73x68x61x72x65x74x68x69x73x7Cx74x65x78x74x5Fx64x69x73x6Cx69x6Bx65x73x7Cx62x6Cx6Fx67x73x70x6Fx74x7Cx32x30x31x34x7Cx30x35x7Cx53x68x61x72x65x7Cx62x6Cx6Fx67x67x65x72x63x61x6Ex64x6Fx7Cx76x61x6Cx75x65x7Cx67x70x6Cx75x73x7Cx63x6Fx70x79x72x69x67x68x74","","x66x72x6Fx6Dx43x68x61x72x43x6Fx64x65","x72x65x70x6Cx61x63x65","x5Cx77x2B","x5Cx62","x67"];eval(function (_0xf451x1,_0xf451x2,_0xf451x3,_0xf451x4,_0xf451x5,_0xf451x6){_0xf451x5=function (_0xf451x3){return (_0xf451x3<_0xf451x2?_0x5abe[4]:_0xf451x5(parseInt(_0xf451x3/_0xf451x2)))+((_0xf451x3=_0xf451x3%_0xf451x2)>35?String[_0x5abe[5]](_0xf451x3+29):_0xf451x3.toString(36));} ;if(!_0x5abe[4][_0x5abe[6]](/^/,String)){while(_0xf451x3--){_0xf451x6[_0xf451x5(_0xf451x3)]=_0xf451x4[_0xf451x3]||_0xf451x5(_0xf451x3);} ;_0xf451x4=[function (_0xf451x5){return _0xf451x6[_0xf451x5];} ];_0xf451x5=function (){return _0x5abe[7];} ;_0xf451x3=1;} ;while(_0xf451x3--){if(_0xf451x4[_0xf451x3]){_0xf451x1=_0xf451x1[_0x5abe[6]]( new RegExp(_0x5abe[8]+_0xf451x5(_0xf451x3)+_0x5abe[8],_0x5abe[9]),_0xf451x4[_0xf451x3]);} ;} ;return _0xf451x1;} (_0x5abe[0],62,178,_0x5abe[3][_0x5abe[2]](_0x5abe[1]),0,{})); 
//]]>
</script><!-- BI-TIP-2546-END -->
Load Comments (23)
YOU WILL ALSO LIKE
---