---
Amachow is a WordPress theme which was adapted from the website of John Chow, a legend of affiliate marketing, who earns hundreds of thousand dollars a month with his affiliate website.
John Chow's website is using a custom built WordPress theme, and John Chow have to pay more than $5000 to build that theme. Of course, that 's nothing with John Chow and his theme is actually his making money machine, so that's a smart investment.
But it will be a huge amount of money if you are a new affiliate marketer and finding a WordPress theme for your affiliate marketing website. You have to invest if you want something in return, but you don't need to invest too much like that just in first steps.
Fortunately, we decided to make an adapted WordPress theme like the website of John Chow and share it to all of you with an affordable price. Ama is Affiliate Marketing and Chow is the the last name of John Chow. Amachow WordPress theme is SEO friendly, 100% responsive, support shopping and forum and a lot of premium features. This is a chance for you to invest your money wisely to get a making money machine from affiliate marketing for your website.
Not Only a Theme, Amachow is a
Full Solution for Affiliate Marketing Websites
– Tien Nguyen –
SEO Friendly
Of course, SEO is the very important thing in making money online. So we always optimize our WordPress themes for Search Engines, especially for Google bots. Micro and Open graph data has been added and checked. We guarantee On-Page SEO for you in Amachow theme, and here is the results that we checked with Google Structured Data Testing Tool:
100% Responsive
Mobile friendly is a MUST feature for any WordPress theme at this time. Because search results from mobile search engines (like Google Mobile Search) is depending on your website's responsive score. This is very important feature because it will affect your earning amount when more than 80% people using smart phone to access world wide web. We know that absolutely, so we invested lot of time in making Amachow mobile friendly. And here our test with Google official tool which will show you how much our theme responsive.
Shuffle Meta Bars
The theme has a bar on top of page to provide short lead link to visitors. That bar allows you adding not only one links but also unlimited links, and the theme will shuffle then showing a random link to readers each time they refresh their browser. This is nice way to earn more from affiliate links
Mega Menu
Amachow supports a MEGA menu which has dropdown and post items when hover. The original site has no this feature, it's only available in Amachow theme.
Shuffle Splash Boxes
Similar with the meta bar, the theme supports an area for you to show splash boxes. You can add unlimited splash boxes and the theme will shuffle then displaying a random box to readers each time they reload their browsers. We provide 2 types of splash box with many flexible option to attract your visitors opting-in your form or click your link. This feature is more convenience and flexible than John Chow.
Opt-in Light-box
We have a built-in Opt-in box which will pop-up politely when your readers click on Call-to-Action buttons (which are also built-in the theme). This feature is popular and usually be used in famous affiliate website to collect users's emails. Of course, we know what is affiliate and we won't missing important thing like this.
Lead Icon Boxes
You may not know why we need icon boxes but they are important. As an affiliate marketer, you will always feel a lack of places for adding affiliate links. You can insert links in posts, and sidebars but that ways seem too spam to users and make they stay away from clicking your links.
And icon box is a solution for this case. Amachow WordPress theme supports adding icon boxes as widgets, so you can add unlimited icon boxes as you want.
Auto Social Counter
Amachow supports auto social counter just in case you need to show off how big your website is. The feature is not only automatic but also provide a reserve setting for you inputting addition manually if you want to hype the number a bit to get trust from readers.
Flexible Page Builder
Not like the custom build theme of John Chow website where everything had been fitted as hard code, Amachow is a mass product and it was built to serve many people with different demands so it must be flexible as much as possible. That's why we provide page builder in this theme so you can create home page layout as the way you want easily.
Theme Options & Customizer
Of course, different people will have different taste of website style. That's why Amachow has Theme Options and also Customizer (live preview) to allow you changing your website style with unlimited colors, backgrounds, fonts, elements and layouts.
Call-to-Action Boxes Ready
We designed a lot of areas for Call-to-Action (CTA). You can add CTA box into sidebar areas (top page, header, right side, post side, …) or you can configure in theme options to display CTA boxes on footer area. So people can not leave your site without giving you some useful things.
Shortcodes & Widgets Ready
All basic shortcodes and widgets like buttons, image, drop cap, message box, quotes, tabs, accordions, text content, …. and advanced ones like Facebook fan page box, Call-to-Action, Ads slots, .etc … has been built along with the theme. We want you always have all tools in a box so you can start your website immediately without waste of time on install any extra things just for showing a button only. Amachow is always ready for you to use instantly, we guarantee that.
Shopping Integrated
Amachow is compatible with WooCommerce, one of the most popular shopping plugin for WordPress. This feature will help you create shop easily and sell your products directly without split your earning for a third party service.
Forums Integrated
This theme is also compatible with BbPress, the top plugin for creating forums on WordPress website. Your site will be always ready for deeper discussiosn with this feature without need to buy forum service from any other web app providers.
Attractive Footer Layout
We decided that the footer layout must have more than only one layout, not like the original John Chow site. So you can change to the layout you want. Amachow WordPress theme supports both grid and column footer layout. You can add unlimited widgets to this area so it's also very flexible to provide extra information when visitors come to the footer of your site content.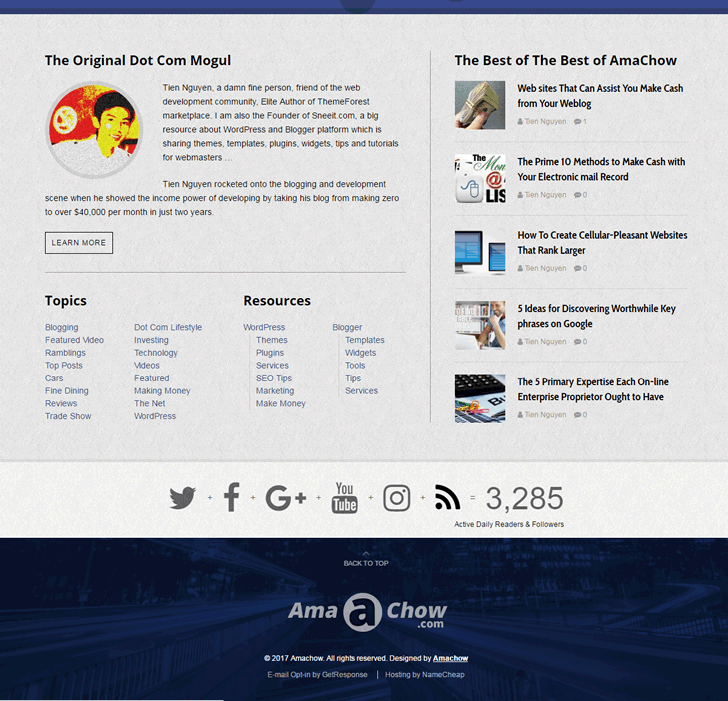 Multiple Comment Systems
Encouraging discussion in affiliate websites is very important things because it will help you keep interact with your readers so they can feel that you are listening theme and then they can accept you solving their problem with your affiliate links. We of course understand this very clearly and we built multiple  comment systems for Amachow WordPress theme. You can pick any comment system you want (WordPress, Facebook, Disqus) and rearrange them as an order you love.
1-Click Installation
You may want to make your site similar with the demo site so you just need to modify and replace demo content with your own content. Yes, you can do it with just only ONE click. Everything you need to do is clicking a button and Amachow will import everything from demo website automatically. You will save a lot of time with this cool feature, and your time is your money so we know it's precious.
RTL Support
If your language is in RTL format, Amachow can still work very well. Did you see any affiliate marketing WordPress theme has this feature? Not many. Amachow is one of them because we believe all of you can make money from affiliate, not only people who are speaking English.
Translatable
Amachow is translation ready WordPress theme, so you can translate both front-end and back-end of your website to your language by using tools or plugins easily. They are both free and mentioned in our documentation very detail.
Ads Slots Ready
We have a lot of sidebar for adding Ads in this theme. You can add your ads code to top of page, header, sidebar, top left of your post content, after post content, footer, .etc… And we also provide a widget for 125px advertisement banners and some Call-to-Action widgets to increase your Click-through-rate and of course your monthly income.
Life-time Auto Update Theme
We provide life-time update for all themes from our website, but you don't need to do it manually. With Amachow, you will update from your dashboard with only ONE CLICK. This feature will save time for you so you can focus on doing important things for your income.
Out-Standing Support Service
We have a detail documentation so you can work with the theme easily. But if you  have any question or problem, we will always beside you on our support forums. It's so simple for you to submit a ticket and we will reply you as soon as possible in our work time (GMT+7).
Are you ready for making money online with this super power weapon?
Regular License
$

19
Life Time Update
Premium Features
6 Months Support Service
Remove Credit Link
Bonus Downloads
Free Installation Service
Charge One Your Client
This item is licensed 100% GPL
Ask a Pre-Sale Question
YOU WILL ALSO LIKE
---